CROATIAN NAZIS OF YESTERDAY
AND TODAY!

( Part #1: The same flag )
Ante Pavelic ; the old Fuhrer of WWII Nazi Croatia in front of the Ustasha flag of the time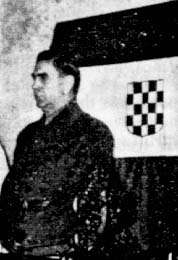 The new flag of [Hitler's] Croatia consists of three broad stripes, red, white and blue, and superimposed upon them a shield of checkered red and white squares...


The above quote is from: Encyclopedia Britannica, edition 1943 , Volume 23, page 923, entry: Yugoslavia

1943 Ustasha Nazis with their flag. These are Ustasha voluteers to fascist Italian troops. The photograph is from recent Croat book in which Croat author brags about Croat Nazi past.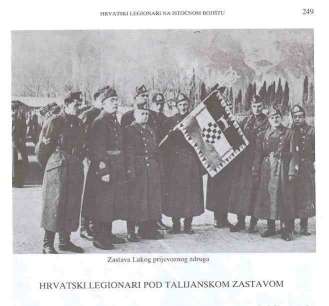 1993 General Franjo Tudjman ; darling of the Western democracies and the fuhrer of new Croatia under old/new Ustasha Nazi flag.